PROFESSIONAL APPOINTMENTS
• University of South Bohemia, Czech Republic: Research Scientist (2016-present)
• Czech Academy of Sciences, Czech Republic: Research Scientist (2014-present)
• Imperial College London, UK: Visiting Researcher (2014-present)
• Universiti Malaysia Sabah, Malaysia: Affiliated Research Fellow (2014-present)
• University of South Bohemia, Czech Republic: Postdoctoral Researcher (2011-2014)
• Imperial College London, UK: Postdoctoral Researcher (2011-2014)
• Smithsonian Tropical Research Institute, Panama: Visiting Fellow (2012)
• Natural History Museum, London, UK: Postdoctoral Researcher (2010-2011)
• University of Cambridge, UK: Affiliated Researcher (2009-2011)

EDUCATION
2005-2009 PhD
Insect Ecology Group, University Museum of Zoology, University of Cambridge, UK
2004-2005 MPhil
Conservation Biology Group, Department of Zoology, University of Cambridge, UK
2000-2003 MA (Hons) Natural Sciences (Zoology)
Gonville and Caius College, University of Cambridge, UK 1st (Rank 5/87)

PUBLICATIONS
ResearcherID profile (Thompson ISI)
2018 and in press
Philip A.J., Fayle T.M. & Yusah K.M. (In press) Selectively logging old growth rain forest twice changes canopy ant species composition, while conversion to oil palm changes composition and reduces species richness and diversity. Journal of Tropical Biology and Conservation
Arnan X., Andersen A.N., Gibb, H. Parr C.L., Sanders N.J., Dunn R.R., Angulo E., Baccaro F.B., Bishop T.R., Boulay R., Castracani C., Del Toro I., Delsinne T., Donoso D.A., Elten E.K., Enriquez M.L., Fayle T.M., Fitzpatrick M.C., Gómez C., Gove A., Groc S., Grossman B.F., Guenard B., Gunawardene N., Heterick B., Hoffmann B., Janda M., Jenkins C., Klimes P., Lach L., Laeger T., Leponce M., Lucky A., Menke S., Mezger D., Moses J., Munyai T.C., Paknia O., Pearce-Duvet J., Pfeiffer M., Philpott S.M., Souza J., Tista M., Vasconcelos H.L. & Retana J. (In press) Dominance-diversity relationships in ant communities differ with invasion. Global Change Biology [PDF]
Houadria M.Y.I., Klimes P., Fayle T.M. & Gullan P.J. (In press) Host-plant dissections reveal contrasting distributions of Crematogaster ants and their symbionts in two myrmecophytic Macaranga species Ecological Entomology [PDF]
Yusah K.M., Foster W.A., Reynolds G. & Fayle T.M. (2018) Ant mosaics in Bornean primary rain forest high canopy depend on spatial scale, time of day, and sampling method. PeerJ 6:e4231 [PDF] [Suppl. Mat.] [Peer review history] [Data]
2017
Plowman N., Hood A., Moses J., Redmond C., Novotny V., Klimes P. & Fayle T.M. (2017) Network reorganisation and breakdown of an ant-plant protection mutualism with elevation Proceedings of the Royal Society B: Biological Sciences 284: 20162564 [PDF] [Data]
Fayle T.M., Wanji, C, Turner E.C. & Yusah K.M. (2017) Living together in novel habitats: A review of land-use change impacts on mutualistic ant-plant symbioses in tropical forests. Chapter 3, pp 52-72. In Ant-Plant Interactions: Impacts of Humans on Terrestrial Ecosystems. Ed. Oliveira, P.S. & Koptur S. Cambridge University Press [PDF]
Nakamura A., Kitching R.L., Cao M., Creedy T.J., Fayle T.M., Freiberg M., Hewitt C.N., Itioka T., Koh L.P., Ma K., Mahli Y., Mitchell A., Novotny V., Ozanne C.M.P., Song L., Wang H., & Ashton L. (2017) Forests and their canopies: achievements and horizons in canopy science. Trends in Ecology and Evolution 32: 438–451 [PDF]
Gibb H. [71 co-authors including Fayle T.M.] & Parr C.L. (2017) A global database of ant species abundances Ecology [PDF]
Parr C.L., Dunn R.R., Sanders N.J., Weiser M., Photakis M., FitzPatrick M., Arnan X., Baccaro F., Bishop T.R., Brandão C., Chick L., Donoso D., Fayle T.M., Gómez C., Grossman B., Pacheco R., Retana J., Sagata K., Silva L.S.R., Silva R.R., Tista M., Vasconcelos H., Yates M., & Gibb H. (2017) GlobalAnts: a new database on the geography of ant traits (Hymenoptera: Formicidae) Insect Conservation and Diversity 10, 5–20 [PDF]
Hudson L.N., Newbold T., [100s of co-authors including Fayle T.M.] & Purvis A. (2017) The database of the PREDICTS (Projecting Responses of Ecological Diversity In Changing Terrestrial Systems) project. Ecology and Evolution 7: 145–188 [PDF]

2016
Fayle T.M., Sam K. Humlova A., Cagnolo L. & Novotny V. (2016) The LifeWebs project: A call for data describing plant-herbivore interaction networks. Frontiers of Biogeography 8.4: e31122 [PDF]
Colwell R.K., Gotelli N.J., Ashton L.A., Beck J., Brehm G., Fayle T.M., Fiedler K., Forister M.L., Kessler M., Kitching R.L., Klimes P., Klugen J., Longino J.T., Maunsell S.C., McCain C.M., Moses J., Noben S., Sam K., Sam L., Shapiro A.M., Wang X., and Novotny V. (2016) Midpoint attractors and species richness: Modelling the interaction between environmental drivers and geometric constraints. Ecology Letters 19: 1009–1022 [PDF] [Suppl. Mat]
Leponce M., Novotny N., Pascal O., Robillard T., Legendre F., Villemant C., Munzinger J., Molino J., Drew R., Odegaard F., Schmidl J., Tishechkin A., Sam K., Bickel D., Dahl C., Damas K., Fayle T.M., Gewa B., Jacquemin J., Keltim M., Klimes P., Koane B., Kua J., Mantilleri A., Mogia M., Molem K., Moses J., Nowatuo H., Orivel J., Pintaud J., Roisin Y., Sam L., Siki B., Soldati L., Soulier-Perkins A., Tulai S., Yombai J., Wardhaugh C., Basset Y. (2016) Land module of Our Planet Reviewed - Papua New Guinea: aims, methods and first taxonomical results. In Robillard T., Legendre F., Villemant C. & Leponce M. (eds), Insects of Mount Wilhelm, Papua New Guinea. Muséum national d'Histoire naturelle, Paris : 11-48 (Mémoires du Muséum national d'Histoire naturelle; 209) [PDF]
Ellwood M.D.F., Blüthgen N., Fayle T.M., Foster W.A. & Menzel F. (2016) Analysis of pairwise interactions reveals unexpected patterns in tropical ant communities Acta Oecologica 75: 24-34 [PDF] [Suppl. Mat.]
Gray C.L. Simmons B.I., Fayle T.M., Mann D.J. & Slade, E.M. (2016) Are riparian forest reserves sources of invertebrate biodiversity spillover and associated ecosystem functions in oil palm landscapes? Biological Conservation 194: 176–183 [PDF] [Suppl. Mat.] [Conservation Corridor]
2015
Fayle T.M., Turner E.C., Bassett Y., Ewers R.M., Reynolds G. & Novotny V. (2015) Whole-ecosystem experimental manipulations of tropical forests. Trends in Ecology and Evolution 30: 334–346 [PDF] [Inst. Entomology]
Gibb H., Sanders N.J., Dunn R.R., Photakis M., Abril S., Andersen A.N., Angulo E., Armbrecht I., Arnan X., Baccaro F.B., Boulay R., Castracani C., Del Toro I., Delsinne T., Diaz M., Donoso D.A., Enríquez M.L., Fayle T.M., Feener Jr. D.H., Fitzpatrick M., Gómez C., Grasso D.A., Groc S., Heterick B., Hoffmann B., Lach L., Lattke J., Leponce M., Lessard J-P., Longino J., Lucky A., Majer J., Menke S.B., Mezger D., Mori A., Paknia O., Pearce-Duvet J., Pfeiffer M., Philpott S., de Souza J.P.L, Tista M., Vonshak M., Parr C.L. (2015) Climate regulates the effects of anthropogenic disturbance on ant assemblage structure. Proceedings of the Royal Society B: Biological Sciences 282: 20150418 [PDF] [Data]
Fayle T.M., Edwards D.P., Foster W.A., Yusah K.M. & Turner E.C. (2015) An ant-plant by-product mutualism is robust to selective logging of rain forest and conversion to oil palm plantation. Oecologia 178: 441–450 [PDF]
Ewers R.M., Boyle M.J.W., Gleave R., Plowman N.S., Benedick S., Bernard H., Bishop T.R., Bakhtiar E.Y., Chey V.K., Chung A.Y.C., Davies R.G., Edwards D.P., Eggleton P., Fayle T.M., Hardwick S.R., Homathevi H., Kitching R.L., Khoo M.S., Luke S.H., March J.J., Nilus R., Pfeifer M., Rao S.V., Sharp A.C. Snaddon J.L., Stork N.E., Struebig M.J., Wearn O.R., Yusah K.M., and Turner E.C. (2015) Logging cuts the functional contribution of invertebrates in tropical rainforest. Nature Communications 6: 6836 [PDF] [Imperial College] [Felix online]
Fayle T.M., Scholtz O., Dumbrell A.J., Russell S., Segar S.T. & Eggleton P. (2015) Detection of mitochondrial COII DNA sequences in ant guts as a method for assessing termite predation by ants. PLOS ONE 10(4): e0122533 [PDF]
Fayle T.M., Eggleton P., Manica A., Yusah K.M. & Foster W.A. (2015) Experimentally testing and assessing the predictive power of species assembly rules for tropical canopy ants. Ecology Letters 18: 254-262 [PDF] [New Scientist] [Blog with cartoons!] [Imperial College] [Inst. Entomology] [iScience]
Gray C., Lewis O., Chung A.Y. & Fayle T.M. (2015) Riparian reserves within oil palm plantations conserve logged forest leaf litter ant communities and maintain associated scavenging rates. Journal of Applied Ecology 52: 31-40 [PDF] [Earth Times]
Fayle T.M. (2015) Moral hazard in ecology. Frontiers in Ecology and Evolution 3: 3 [PDF]
2014
Hudson L., Newbold T., [100s of co-authors including Fayle T.M.] & Purvis, A. (2014) The PREDICTS database: a global database of how local terrestrial biodiversity responds to human impacts. Ecology and Evolution 4: 4701–4735 [PDF]

Konopik O., Gray C., Grafe T.U., Steffan-Dewenter I. & Fayle T.M. (2014) From rain forest to oil palm plantations: shifts in predator population and prey communities, but resilient interactions. Global Ecology and Conservation 2: 385–394 [PDF]

Yusah K.M. & Fayle T. M. (2014) The first record of a fly of the family Milichiidae (Diptera) interacting with an ant of the genus Polyrhachis Smith, 1857 (Hymenoptera: Formicidae). Biodiversity Data Journal 2: e4168 [PDF]
Luke S.H., Fayle T.M., Eggleton P., Turner E.C. & Davies R.G. (2014) Abundance and functional structure of ant and termite assemblages along a tropical forest disturbance gradient in Sabah, Malaysia. Biodiversity and Conservation 23: 2817–2832 [PDF] [Mongabay]
Miller J.A., Schilthuizen M., Burmester J.L., van der Graaf L., Merckx V., Jocqué M., Kessler P.J.A., Fayle T.M., Breeschoten T., Broeren R., Bouman R., Chua W., Feijen F., Fermont T., Groen K., Groen M., Kil N.J.C., de Laat H.A., Moerland M.S., Moncoquet C., Panjang E., Philip A.J., Roca-Eriksen R., Rooduijn B., van Santen M., Swakman V., Evans M.N., Evans L.J., Love K., Joscelyne S.H., Tober A.V., Wilson H.F., Ambu L.N., Goossens B. (2014) Dispatch from the field: ecology of ground-web-building spiders with description of a new species (Araneae, Symphytognathidae). Biodiversity Data Journal 2: e1076 [PDF] [NBC News] [The Borneo Post]
2013
Fayle T.M., Turner E.C. & Foster W.A. (2013) Ant mosaics occur in SE Asian oil palm plantation but not rain forest and are influenced by the presence of nest-sites and non-native species. Ecography 36: 1051-1057 [PDF] [Suppl. Mat.] [NERC Planet Earth] [Mongabay]
Fayle T.M. & Polaszek A. (2013) Wallace's legacy: from biogeography to conservation biology. Antenna 37: 172-175 [PDF]
Senior M.J.M., Hamer K.C., Bottrell S., Edwards D.P., Fayle T.M., Lucey J.M., Mayhew P.J., Newton R., Peh K. S.-H., Sheldon F.H., Stewart C., Styring A.R., Thom M.D.F., Woodcock P. & Hill J.K. (2013) Trait-dependent declines of species following conversion of rain forest to oil palm plantations. Biodiversity and Conservation 22: 253-268 [PDF]
2012
Yusah K.M., Turner E.C., Yahya B.E. & Fayle T.M. (2012) An elevational gradient in litter-dwelling ant communities in Imbak Canyon, Sabah, Malaysia. Journal of Tropical Biology and Conservation 9: 192-199 [PDF]
Turner E.C., Abidin Y.Z., Barlow H., Fayle T.M., Jaafar M.H.H.J., Khen, C.V., Larenus J., Nainar A., Reynolds G., Yusof B.Y., Khoo M.S. & Ewers R.M. (2012) The Stability of Altered Forest Ecosystems Project: Investigating the design of human-modified landscapes for productivity and conservation. The Planter 88: 453-468 [PDF]
Klimeš P., Idigel C., Rimandai M., Fayle T.M., Janda M. & Weiblen G.D. & Novotný V. (2012). Why are there more arboreal ant species in primary than secondary tropical forests? Journal of Animal Ecology 81: 1103–1112 [PDF] [Suppl. Mat.] [In focus article in JAE]
Fayle T.M., Edwards D.P., Turner, E.C., Dumbrell A.J., Eggleton P. & Foster W.A. (2012). Public goods, public services, and by-product mutualism in an ant-fern symbiosis. Oikos 121: 1279–1286 [PDF] [Suppl. Mat.] [Commentary in PLoS ONE]
Brussaard L., Aanen D.K., Briones M., Decaëns T, De Deyn G.B., Fayle T.M. & James S.W. (2012). Biogeography and phylogenetic community structure of soil invertebrate ecosystem engineers: global to local patterns and implications for ecosystem functioning and global environmental change impacts. In Wall D. (Ed.) The Oxford Handbook of Soil Ecology and Ecosystem Services. Oxford University Press [PDF]
Snaddon J.L., Turner E.C., Fayle T.M., Chey V.K., Eggleton P.E. & Foster W.A. (2012). Biodiversity hanging by a thread: the importance of fungal-litter trapping systems in tropical rainforests. Biology Letters 8: 397-400 [PDF] [Suppl. Mat.] [NERC Planet Earth] [Discover Magazine] [National Geographic]
Yusah K.M., Fayle T.M., Harris G. & Foster W.A. (2012). Optimising diversity assessment protocols for high canopy ants in tropical rain forest. Biotropica 44: 73-81. [PDF] [Suppl. Mat.]
2011
Fayle T.M., Bakker L., Cheah C., Ching T.M., Davey A., Dem F., Earl A., Huaimei Y., Hyland S., Johansson B., Ligtermoet E., Lim R., Lin L.K., Luangyotha P., Herlander Martins B., Palmeirim A.F., Paninhuan S., Kepfer Rojas S., Sam L., Sam P.T.T., Susanto D., Wahyudi A., Walsh J., Weigl S., Craze P.G., Jehle R., Metcalfe D. & Trevelyan T. (2011). A positive relationship between ant biodiversity (Hymenoptera: Formicidae) and rate of scavenger-mediated nutrient redistribution along a disturbance gradient in a south-east Asian rain forest. Myrmecological News 14: 5-12. [PDF] [Suppl. Mat.]
Turner E.C., Snaddon J.L., Ewers R.M., Fayle T.M. and Foster W.A. (2011). The Impact of Oil Palm Expansion on Environmental Change: Putting Conservation Research in Context. In Bernardes M.A.S. (Ed.) Environmental Impact of Biofuels. InTech Press. [PDF]
Foster W.A., Snaddon J.L., Turner E.C., Fayle T.M., Cockerill T.D., Ellwood M.D.F., Broad G.R., Chung A.Y.C., Eggleton E., Chey V.K., Yusah K.M. (2011). Establishing the evidence base for maintaining biodiversity and ecosystem function in the oil palm landscapes of South East Asia. Philosophical Transactions of the Royal Society B 366: 3277-3291. [PDF] [NERC Planet Earth]
Fayle T.M. & Manica A. (2011). Bias in null model analyses of species co-occurrence: a response to Gotelli and Ulrich (2010). Ecological Modelling 222: 1340-1341. [PDF]
Woodcock P., Edwards D.P., Fayle T.M., Newton R.J., Chey V.K.. Bottrell S.H. & Hamer K.C. (2011) The conservation value of Southeast Asia's highly degraded forests: evidence from leaf-litter ants. Philosophical Transactions of the Royal Society B 366: 3256-3264. [PDF] [Suppl. Mat.] [Commentary in Frontiers in Ecology and the Environment] [Science Daily]
Fayle T.M., Dumbrell A.J., Turner E.C & Foster W.A. (2011). Distributional patterns of epiphytic ferns are explained by the presence of cryptic species. Biotropica 43: 6-7. [PDF]
2010
Fayle T.M. & Manica A. (2010). Reducing over-reporting of deterministic co-occurrence patterns in biotic communities. Ecological Modelling 221: 2237-2242 [PDF] [Suppl. Mat.] [Response from Gotelli and Ulrich] [Commentary on Lavender et al. paper in PLOS ONE]
Fayle T.M. (2010) Go to the ant thou sluggard... Trends in Ecology and Evolution 25: 431-432 [PDF]
Fayle T.M., Turner E.C., Snaddon J.L., Chey V.K., Chung A.Y., Eggleton P.E. & Foster W.A. (2010). Oil palm expansion into rain forest greatly reduces ant biodiversity in canopy, epiphytes and leaf litter. Basic and Applied Ecology 11: 337-345. [PDF] [Suppl. Mat.] [NERC Planet Earth] [Mongabay]
Edwards D.P., Ansell F.A., Woodcock P, Fayle T.M., Chey V.K. & Hamer K.C. (2010) Can the failure to punish promote cheating in mutualism? Oikos 119: 45-52. [PDF]
2009
Fayle T.M., Chung A.Y.C., Dumbrell A.J., Eggleton P. & Foster W.A. (2009). The Effect of Rain Forest Canopy Architecture on the Distribution of Epiphytic Ferns (Asplenium spp.) in Sabah, Malaysia. Biotropica 41: 676-681. [PDF] [Cover] [Suppl. Mat.]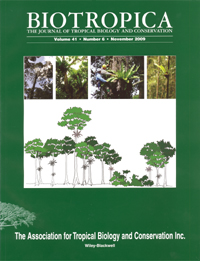 2008
Fayle T.M., Ellwood M.D.F., Turner E.C., Snaddon J.L., Yusah K.M. & Foster W.A. (2008). Bird's nest ferns: islands of biodiversity in the rainforest canopy. Antenna 32: 34-37. [PDF]
Turner E.C., Snaddon J.L., Fayle T.M. & Foster W.A. (2008). Oil Palm Research in Context: Identifying the Need for Biodiversity Assessment. PLoS ONE 3: e1572. [PDF]
Fayle T.M. (2008). Book Review of Ants of North America: A Guide to the Genera by Brian Fisher & Stefan Cover. Zoological Journal of the Linnean Society 152: 847. [PDF]
Disney R.H.L. & Fayle T.M. (2008). A New Species of Scuttle Fly (Diptera: Phoridae) Parasitizing an Ant (Hymenoptera: Formicidae) in Borneo. Sociobiology 51: 327-332. [PDF]
2007
Field J., Turner E., Fayle T.M. & Foster W.A. (2007). Costs of egg-laying and offspring provisioning: multifaceted parental investment in a digger wasp. Proceedings of the Royal Society B 274: 445-451. [PDF]
Fayle T.M., Sharp R.E. & Majerus M.E.N. (2007). The effect of moth trap type on size and composition in British Lepidoptera. British Journal of Entomology and Natural History 20: 221-232. [PDF]
Aldridge D.C., Fayle T.M. & Jackson N. (2007). Freshwater mussel abundance predicts biodiversity in UK lowland rivers. Aquatic Conservation: Marine and Freshwater Ecosystems 17: 554-564. [PDF]

EDITING AND REVIEWING
• Editor for: Biotropica (Subject Editor 2014 - present, 15 manuscripts), European Journal of Entomology (Associate Editor 2014 - present, 20 manuscripts), Asian Myrmecology (English Language Editor 2014 - 2015, 4 manuscripts).
• Grant Reviewer for: The UK Natural Environment Research Council; The Estonian Research Council; The Wildlife Reserves Singapore Conservation Fund.
• Journal Reviewer for: Basic and Applied Ecology, Biological Conservation, Biotropica, Bulletin of Insectology, Current Biology, Ecological Entomology, Ecology, Ecology Letters, European Journal of Entomology, Global Change Biology Bioenergy, Global Ecology and Conservation, Insect Conservation and Diversity, Journal of Insect Conservation, Journal of Insect Science, Journal of Tropical Biology and Conservation, Landscape Ecology, Myrmecological News, Natural Areas Journal, Oecologia, Oikos, PLoS ONE, Tropical Conservation Science (55 manuscripts in total, Publons verified reviews profile and statistics).

SELECTED PRIZES AND SCHOLARSHIPS
• Otto Wichterle Award 2015 from the Academy of Sciences of the Czech Republic for "exceptionally outstanding, promising young scientists for their remarkable contributions to the advancement of scientific knowledge" (translated from Czech) [website]
• Varley Gradwell Travelling Fellowship in Insect Ecology 2011 from the University of Oxford. [website]
• Thomas Henry Huxley Award and Marsh Prize 2009 from the Zoological Society of London for "the best zoological doctoral thesis produced in Great Britain or Northern Ireland". [website]
• Alfred Russel Wallace Award 2008/9 from the Royal Entomological Society "for postgraduate research leading to a PhD degree awarded by a UK university and judged to make the most significant contribution to entomology in the year". [website]
• Student Talk Prizes from the Royal Entomological Society (1st 2008, 2nd 2006) and the International Union for the Study of Social Insects (1st 2008).
• Swann Prize for Biology, Legg Scholarship (2005, 2006) and election to Senior and College Scholarships, Gonville and Caius College, Cambridge.

FUNDING AWARDED
• Grant Agency of the Czech Republic (GACR) Standard Grant (PI – sole Principal Investigator; £349,000) The impacts of tropical forest degradation and fragmentation on ant-plant mutualisms, and consequences for plant community dynamics. 16-09427S (2016-2018)
• Grant Agency of the Czech Republic (GACR) Standard Grant (PI – sole Principal Investigator; £205,000) How do changes in species interaction networks affect ecosystem function when tropical forests are degraded? 14-32302S (2014-2016)

• Australian Research Council (ARC) Discovery Project Grant (PI – Partner Investigator; £208,000) Ecosystem quality and herbivore dynamics in tropical rainforests fragmented by deforestation DP140101541 (2014-2016)

• Grant Agency of the Czech Republic (GACR) Leader of Malaysian-based team of Centre of Excellence consortium grant 14-36098G (£26,000) Center for Tropical Biology (2014-2018)

• South East Asian Rainforest Research Programme research fellowship (Postdoctoral fellow; £34,000; 2010-2014)

• Postdoctoral Fellowship award from SENYACT (Panama) to visit Smithsonian Tropical Research Institute (£1700; 2012)

• Varley Gradwell Travelling Fellowship in Insect Ecology 2011 from the University of Oxford (£2500; 2011)

• UK Natural Environment Research Council (NERC) Small Project grant (Named postdoctoral researcher, helped to write grant, £42,000). How Important is the ant-termite interaction in African rainforests? NE/H011307/1 (2010-2011)

• Various other minor grants and awards 2005 onwards (£7450)

TEACHING ACTIVITY
Taught on five two-week residential undergraduate field courses in the UK, including lectures to students, demonstration during field exercises and supervision of student projects. Taught on and helped organise a one-month Tropical Biology Association field course in Sabah, Malaysia. Demonstrated part 1A Evolution and Behaviour and Quantitative Biology undergraduate practicals. Supervisor for two PhD students (both ongoing, one University of South Bohemia, one Griffith University). Three masters students (one completed with distinction, University Papua New Guinea, two ongoing, Universiti Malaysia Sabah). Twenty-seven undergraduates including three ongoing and three completed at Universiti Malaysia Sabah (co-supervised), and 21 completed BA students, Cambridge. Invited seminars for undergraduate students of the Naturalis Biodiversity Center, Netherlands (at Danau Girang field centre, Sabah, Malaysia), and the Asia-Europe Meeting (ASEM) workshop "Challenges to Biodiversity Conservation in Tropical Ecosystems" at Universiti Brunei Darussalam.

OUTREACH AND COMMUNICATION
Presented work at international conferences in the UK, USA, Malaysia (plenary), Indonesia, Brunei and South Africa. Invited speaker at seminars in various institutions including Xishuangbanna Tropical Botanic Gardens (China), University of Plymouth (UK), University of Bristol and Imperial College London, UK, and Griffith University, Australia (63 research presentations in total). Seminars for the public in London, Teignmouth and Amsterdam, including an invited lecture at the Wallace100 celebrations at the Natural History Museum, London. Have previously provided scientific advice for Canopy Access Ltd. and the publishers Dorling Kindersley. Helped run a stand at the Royal Society Summer Exhibition. Interviews with BBC online, BBC Radio 6, The Daily Mail (UK newspaper) and Malaysian national television. My research has also been covered by NBC news, NERC Planet Earth magazine, Mongabay (an online tropical conservation news site), The Borneo Post, National Geographic, Discover Magazine, and The Brunei Times. Photography relating to my work has featured on front covers of Science, TREE, Biotropica, Journal of Experimental Biology and Biology 2 for OCR (an A-level text book). Creator of a key to the ant genera of Borneo, which is freely available online in English and Malay. Contributor to magazine "The Conversation".

ADMINISTRATION EXPERIENCE
Run my own research group in the Czech Republic, with associated administrative activities. Organized symposium for the INTECOL 2013 Congress "The effects of large scale manipulations of tropical forests on arthropod assemblages". Organised lab meetings during MPhil degree.